Auch eine Serie, die ich mir gerne angesehen hatte.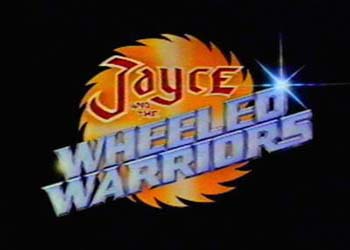 "Jayce ist der Sohn des brillanten Botanikers Audric. Aus dessen Experimenten entstand unter anderem das humanoide Mädchen Flora. Ein weiteres Ergebnis seiner Forschungen ist eine Art Wundergetreide, das unter jeglichen Umweltbedingungen gedeihen kann und letztlich den Hunger in den Galaxie beenden soll. Durch eine Sonneneruption wird die Wunderpflanze in eine böse Lebensform verwandelt, die den Namen Saw Boss trägt. Auch andere Pflanzen in Audrics Labor werden von dem stellaren Leuchten verändert und verwandeln sich zu den Monster Minds. Daraufhin entwickelt er eine Waffe, um die bösen Pflanzen zu vernichten. Dennoch muss er fliehen, bevor er sie überhaupt nutzen kann, und teilt die Waffe in zwei Teile. Einen Teil behält er, den anderen übergibt er seinem Vertrauten Oon mit dem Auftrag, für die Sicherheit seines Sohnes Jayce zu sorgen.
Später nimmt Jayce als Anführer der Lightning League die Suche nach seinem Vater Audric und den Kampf gegen die Monster Minds auf. Dabei nutzt man weiße und silberne Fahrzeuge und das Raumschiff Pride of the Skies II. Die Monster Minds hingegen besitzen eine Art Kletterpflanze, die sich durch den interstellaren Raum schlängelt und durch ihre Sprosse ihre Keime in andere Welten trägt, die sich durch rapides Wachstum sehr schnell zu Monster Minds vermehren. Anführer der Monster Minds ist Saw Boss.
Schließlich gelingt es Jayce aber doch – nun wieder mit seinem Vater vereint – die Monster Minds zu vernichten."